Delicious Apricot Cashew and Coconut Bites for a Diabetes Friendly Snack
Are you looking for a tasty snack that won't disrupt your blood sugar levels? Look no further! These Delicious Apricot Cashew and Coconut Bites are the perfect diabetes-friendly treat.
Packed with the natural sweetness of apricots, the creaminess of cashews, and the tropical flavor of coconut, these bites are as delicious as they are nutritious.
Whether you have diabetes or want a healthier snack, these bites will satisfy your taste buds without compromising your health. So grab a handful and indulge guilt-free in these delectable treats!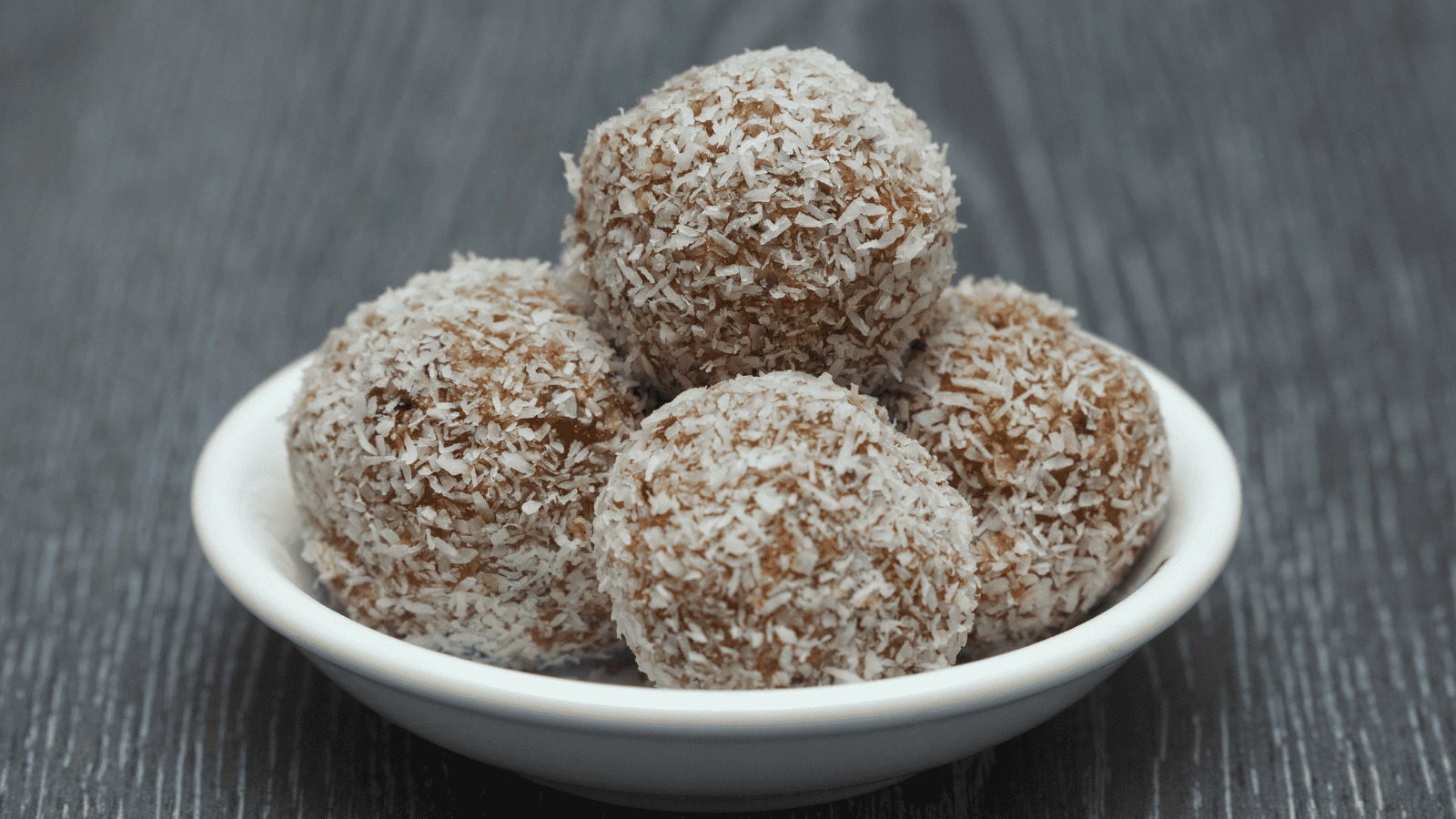 Apricot Cashew and Coconut Bites for a Diabetes Friendly Snack
Equipment
Food processor

Mixing bowl

Measuring cups and spoons

Spatula

Baking paper or parchment paper

Airtight container for storage
Ingredients
1

cup

dried apricots

(unsulphured)

1

cup

raw cashews

½

cup

unsweetened shredded coconut

2

tbsp

chia seeds

1

tbsp

vanilla extract

A pinch of salt

2-3

tbsp

water

or as needed
Instructions
Preparation
Lay a piece of baking paper or parchment paper on a tray or flat surface where the bites will be set to refrigerate.
Processing Cashews
In the food processor, add the cashews. Pulse until the cashews are broken down into small pieces but not completely powdered.
Adding Apricots
Add to the processor, and add dried apricots. Process until the apricots and cashews are well combined and form a sticky mixture.
Mixing in Remaining Ingredients
Transfer the apricot and cashew mixture to a mixing bowl. Add the shredded coconut, chia seeds, vanilla extract, and a pinch of salt. Mix well using a spatula. If the mixture seems too dry, add water 1 tablespoon at a time, mixing after each addition, until the mixture is moldable but not overly wet.
Forming the Bites
Using your hands, take a small amount of the mixture and roll it into a ball. Place the formed ball on the prepared tray. Continue this process until all the mixture is used up.
Refrigeration
Place the tray in the refrigerator for at least 2 hours or until the bites are firm.
Storage
Once firm, transfer the bites to an airtight container and store in the refrigerator.
Notes
These bites are naturally sweetened by apricots, making them a good snack option for those with diabetes. However, always consume in moderation and monitor blood sugar levels.
You can customize the recipe by adding or replacing ingredients. For instance, flaxseeds can be used in place of chia seeds.
These bites can be stored in the refrigerator for up to a week. They can also be stored in the freezer and enjoyed as a frozen treat if you prefer a firmer texture.
Nutrition
Calories:
1488
kcal
Carbohydrates:
143
g
Protein:
35
g
Fat:
95
g
Saturated Fat:
37
g
Polyunsaturated Fat:
16
g
Monounsaturated Fat:
33
g
Trans Fat:
0.03
g
Sodium:
52
mg
Potassium:
2729
mg
Fiber:
30
g
Sugar:
82
g
Vitamin A:
4698
IU
Vitamin C:
3
mg
Calcium:
285
mg
Iron:
15
mg
Sugar Substitutes
Various sugar substitutes can be used in this recipe for those looking to reduce their sugar intake or follow a specific dietary plan. Here are a few options to consider:
Stevia
Stevia is a natural, calorie-free sweetener from the Stevia Rebaudiana plant. It can be used in place of honey to reduce the overall sugar content of the bites. Stevia is much sweeter than sugar, so only a tiny amount is needed.
Erythritol
Erythritol is a sugar alcohol that provides sweetness without calories or impacts blood sugar levels. It is often used as a one-to-one replacement for sugar in recipes.
Remember that erythritol can have a cooling effect on the taste buds, which may slightly alter the flavor of the bites.
Xylitol
Xylitol is another sugar alcohol commonly used as a sugar substitute. Like erythritol, it has a minimal impact on blood sugar levels and contains fewer calories than sugar. It can be used as much as honey or sugar in this recipe.
Monk Fruit Sweetener
Monk fruit sweetener is derived from the monk fruit extract, a small melon-like fruit native to Southeast Asia. It is a natural, zero-calorie sweetener that can be used instead of honey. Monk fruit sweetener is known for its intense sweetness, so adjust the amount used according to taste.
Agave Nectar
Agave nectar is a natural sweetener derived from the sap of the agave plant. It is sweeter than sugar and honey, so less is needed to achieve the desired level of sweetness.
However, it is essential to note that agave nectar is still a source of sugar and should be consumed in moderation.
When substituting sugar in this recipe, it is recommended to taste the dough along the way to ensure the desired level of sweetness is achieved. Adjust the amount of the chosen sugar substitute accordingly.
Variations
This apricot cashew and coconut bites can be easily customized to suit personal preferences or dietary needs. Here are a few variations you can try:
Almond and Apricot Bites
Replace the cashews with almonds for an almond and apricot twist. Almonds contribute distinct flavor and texture, creating a slightly different taste experience. Toasting the almonds beforehand intensifies their flavor and adds depth to the bites.
Date and Walnut Bites
Substitute the apricots with dates and the cashews with walnuts for a more prosperous, earthier flavor. Dates are naturally sweet and lend a caramel-like taste to the bites. Walnuts provide a robust nuttiness and are an excellent source of omega-3 fatty acids.
Peanut and Raisin Bites
Swap the cashews for peanuts and add raisins for a classic combination. Peanuts bring their creamy yet crunchy texture, while raisins provide bursts of natural sweetness.
This variation is reminiscent of a peanut butter and jelly flavor profile, making it a nostalgic treat.
Feel free to experiment with other nut and dried fruit combinations to create unique flavor combinations.
Serving Suggestions
This apricot cashew and coconut bites can be enjoyed in various ways. Here are a few serving suggestions to enhance your snacking experience:
Enjoy as a Midday Snack
These bites are the perfect midday snack to satisfy your cravings and boost your energy levels. Grab a few bites when you need a quick pick-me-up or a nutritious snack.
They provide a satisfying blend of carbohydrates, protein, and healthy fats to keep you fueled throughout the day.
Pair with a Cup of Herbal Tea
Create a cozy afternoon ritual by pairing these bites with herbal tea. The flavors of the edges complement the warmth and soothing qualities of herbal tea, creating a delightful treat for your taste buds.
Choose a herbal tea that complements the flavors of the bites, such as chamomile or cinnamon.
Serve Alongside a Fresh Fruit Platter
For a refreshing and colorful snack platter, serve these bites alongside various fresh fruits. The sweetness of the taste pairs well with the natural sweetness of fruits like berries, grapes, and melons. The combination of textures and flavors makes for a vibrant and nutritious snack.
Storage
Proper storage is key to ensuring the longevity and freshness of these apricot cashew and coconut bites. Here are some storage recommendations:
Store in an Airtight Container in the Refrigerator
Transfer the bites to an airtight container and store them in the refrigerator. The airtight container helps to lock in freshness and prevent moisture from affecting the texture of the edges. It also keeps them protected from any odors in the refrigerator.
Best Consumed Within 5 Days
For the best taste and texture, consuming these bites within five days of preparation is recommended. The edges may become slightly drier and lose some freshness as time passes. Enjoying them within this timeframe ensures optimal flavor and quality.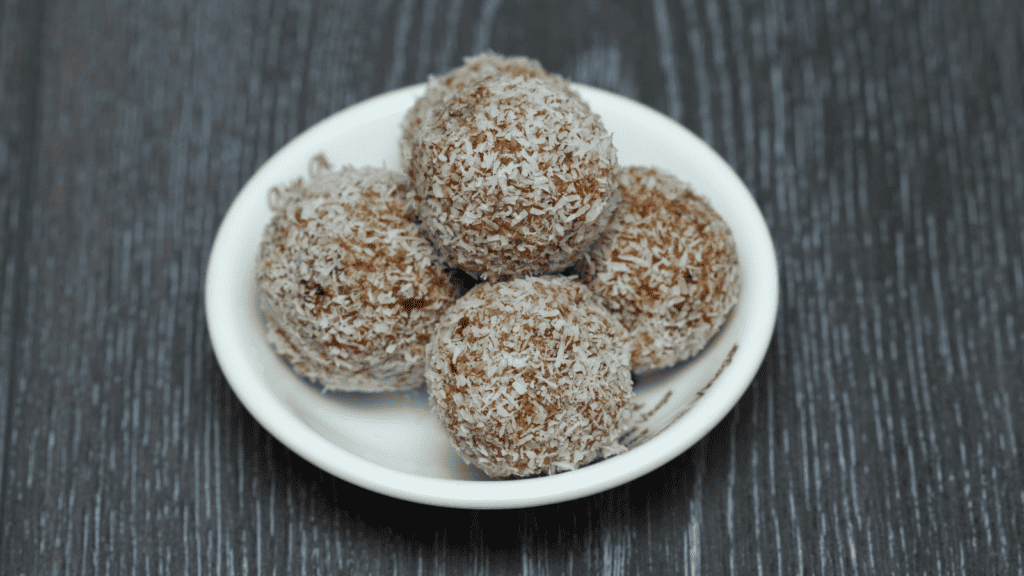 Final Thoughts – Apricot Cashew and Coconut
These apricot cashew and coconut bites are versatile and delightful snack options. Whether you're looking for a delicious treat or a diabetes-friendly chance, these bites fit the bill.
With their natural sweetness, creamy texture, and satisfying crunch, they offer a delightful indulgence without compromising nutrition.
These bites can be easily customized to suit individual preferences, making them a great snack option for everyone. Whether you experiment with different nut and dried fruit combinations or substitute the sweeteners, these bites can be tailored to your taste.
As a diabetes-friendly snack, these bites provide a balanced combination of carbohydrates, protein, and healthy fats. The natural sugars from the apricots and a touch of honey offer a better alternative to processed sweets.
However, monitoring portion sizes and ensuring that the bites fit your dietary requirements is essential.
So, the next time you're looking for a guilt-free treat or snack that won't spike your blood sugar levels, try these apricot cashew and coconut bites. Enjoy the delightful blend of flavors, textures, and nutrition these bites offer.
---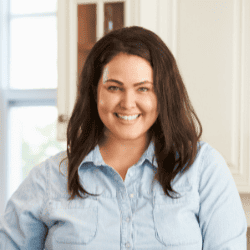 Born and raised in a family of foodies, Georgia's passion for cuisine was nurtured from a young age as she learned the intricacies of flavor and texture from her grandmother's kitchen. As an adult, this early fascination blossomed into a full-fledged love affair with the culinary world.