Togri Pudi Pigeon Peas Spice Powder
As soon as I prepared this spice powder, I felt my mother's presence quite strongly……the aroma was undeniable…..it was as if she was here cooking for me…. I learnt the recipe from her.
So far, every single time I have had the joy of savoring togri pudi with hot steaming rice, a touch of ghee (clarified butter), and a bit of salt, it has been her home-made spice powder sent over for me; with not the slightest of concern with regards to the courier charges, lovingly sent, thoroughly packaged across the many miles that separated us…
After a busy night's work, I would return home at around 11 AM….there being nothing to eat….nor the energy to cook…for a starving me, togri pudi would be my only savior. I would chuck in some rice to cook in the microwave, a quick shower, soon I would be ready to tuck in.
Being full of lentil goodness well spiced up, all I would probably need was perhaps a chopped up cucumber or a salad to go with it; finishing off the meal with yogurt rice or simply more helpings of togri pudi with rice!
It has a distinctively lovely flavor, just the warming aroma enough to jog up anyone's appetite and wet it too. Kids will love this too as an alternative to their regular dal-rice or as part of their meal. you can serve some plain yogurt with it.
INGREDIENTS:
split pigeon peas – 1 & 1/2 cups
whole peppercorns – 1 tbsp (add 1 & 1/2 to 2 tbsp if you want it spicy)
dry spicy red chilies – 1-2 (as per taste)
curry leaves – 15 (optional) (washed and dried)
ghee – 1 tsp
METHOD: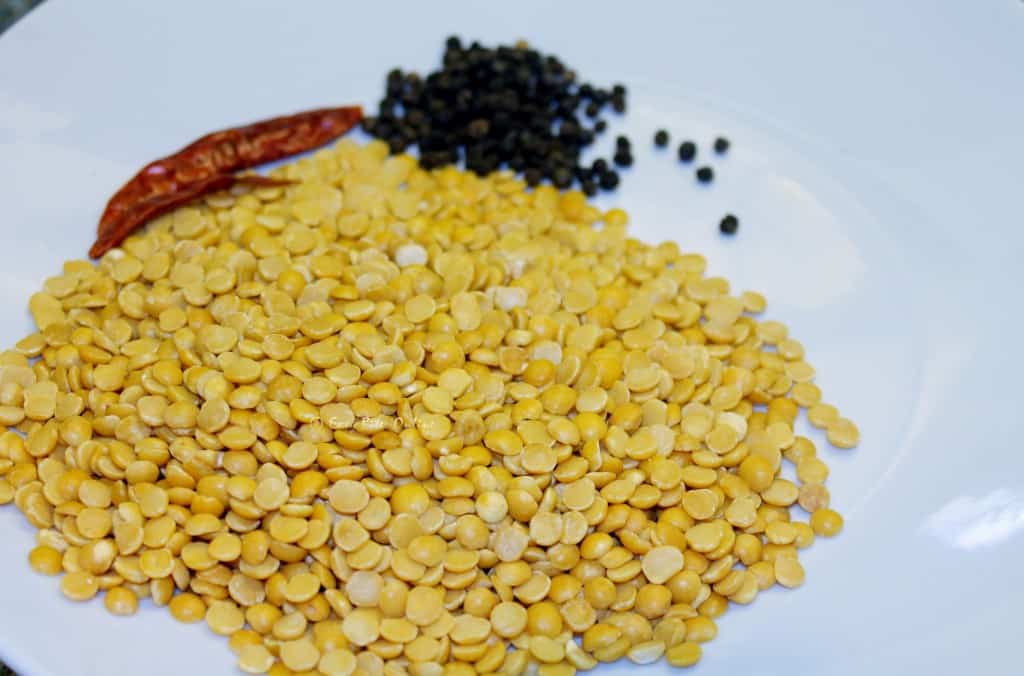 split pigeon peas, dry red chilies, whole peppercorns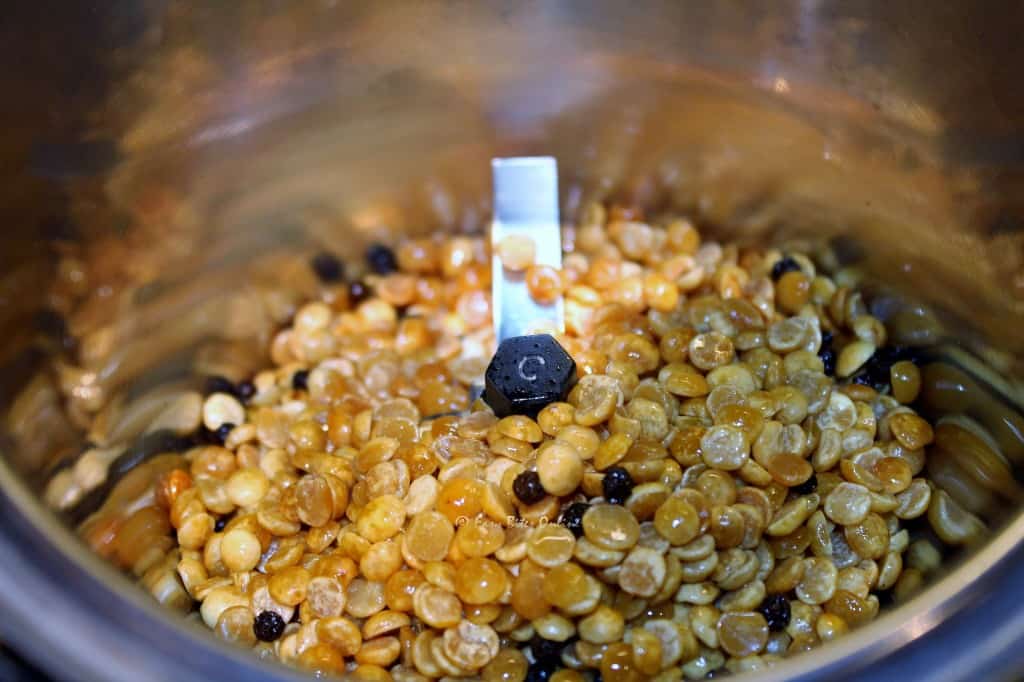 roast the lentils and spices in some ghee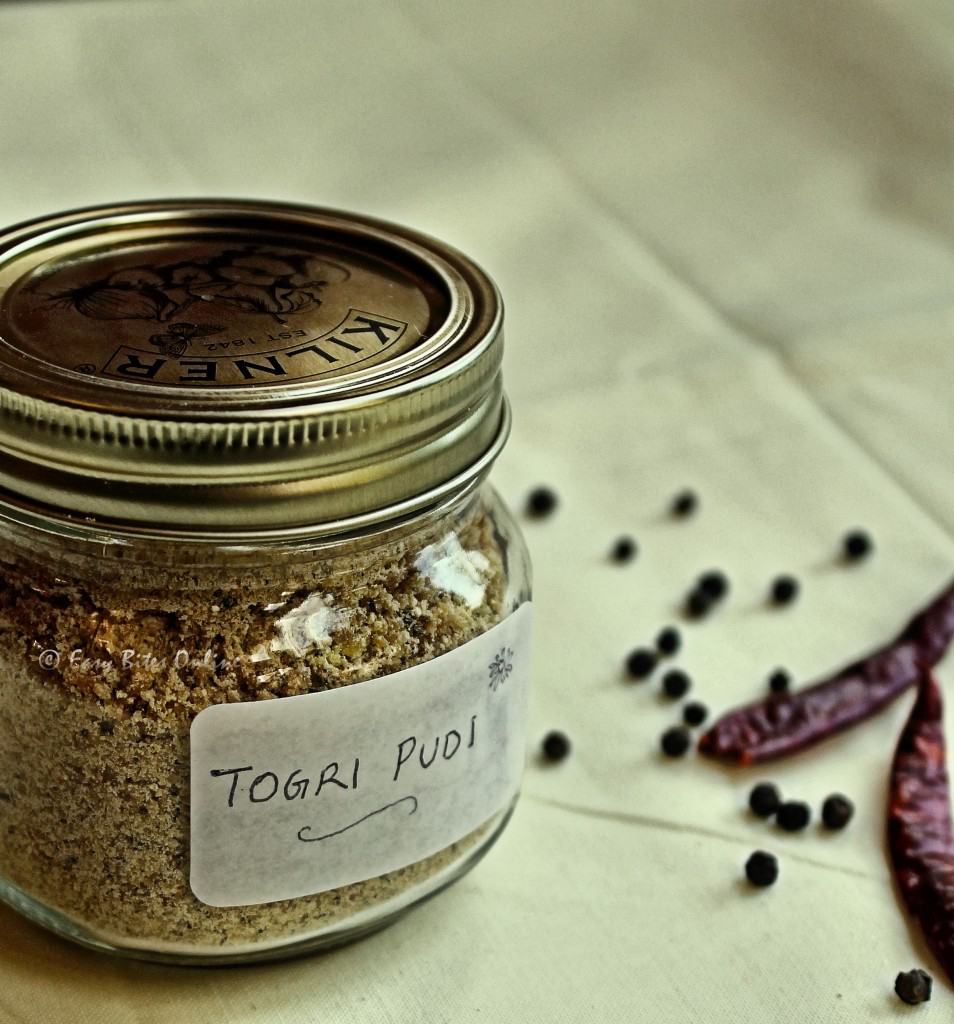 transfer to a plate to cool off
once cooled, grind to a coarse powder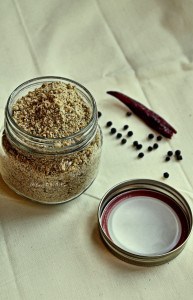 Recipe type: spice powder
Cuisine: south Indian
Prep time: 5 mins
Cook time: 10 mins
Total time:15 mins
spice powder prepared with split pigeon peas
INGREDIENTS
split pigeon peas – 1 & ½ cups
whole peppercorns – 1 tbsp (add 1 & ½ to 2 tbsp if you want it spicy)
dry spicy red chilies – 1-2 (as per taste)
curry leaves – 15 (optional) (washed and dried)
ghee – 1 tsp
METHOD
heat up a pan, add 1 tsp of ghee
add the split pigeon peas, whole peppercorns, red chilies and roast them stirring them around until the lentils turn golden brown and a nice aroma emanates
if using curry leaves, add them last, just when the lentils are about to get done and stir
transfer all the roasted mixture onto a plate. allow it to cool
in a dry grinder jar, add the roasted spices, lentils and at the lowest speed grind to a slightly coarse powder
transfer to an air tight jar. tastes best for the first couple of weeks
while serving, serve a 2-3 teaspoons (or as needed) with some hot rice, a tsp of ghee (or oil) and salt to taste. mix well
NOTES
make sure the grinder jar is dry otherwise the powder will become soggy and will not last long.
grind it to a slightly coarse powder – this gives better flavor and texture.
while serving, add salt to taste to the hot rice, ghee(or oil if you prefer) and mix well. can be served with plain yogurt.
stays good for months when stored in a dry air tight container.
---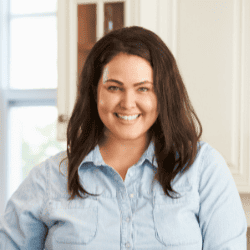 Born and raised in a family of foodies, Georgia's passion for cuisine was nurtured from a young age as she learned the intricacies of flavor and texture from her grandmother's kitchen. As an adult, this early fascination blossomed into a full-fledged love affair with the culinary world.