Can You Freeze Boursin Cheese? Best Homemade Recipes
If you're a fan of the creamy, herby goodness of Boursin cheese, you might wonder, "Can you freeze Boursin cheese?" The short answer is yes, you can freeze Boursin cheese, but there's a right way to do it to maintain the best quality and texture.
First Things First: Proper Storage
Before we dive into freezing Boursin cheese, let's talk about proper storage. Boursin cheese is a soft, creamy cheese made from cow's milk. It's a type of fresh cheese, often referred to as Gournay cheese after its creator, François Boursin.
Store it in an airtight container in the refrigerator to maintain its freshness. This prevents the cheese from absorbing odors and flavors from your fridge.
Freezing Boursin Cheese: The Best Way
When it comes to freezing Boursin cheese, follow these steps for the best results:
Portion It: Divide your Boursin cheese into individual portions. This makes thawing only what you need easier without repeatedly freezing and thawing the entire package.
Wrap It Well: Place each portion in a freezer bag and press out as much air as possible before sealing. This minimizes the risk of freezer burn and helps maintain the cheese's texture.
Double Layer: For extra protection, you can double-bag the portions. This ensures a more airtight seal.
Label It: Don't forget to label the bags with the date you froze the Boursin cheese. This helps you keep track of its freshness.
Freeze It: Store the bags of Boursin cheese in a freezer-safe container to prevent them from getting crushed or damaged by other items in the freezer.
Thawing Frozen Boursin Cheese: The Right Way
When you're ready to use your frozen Boursin cheese, follow these steps:
Transfer it to the Fridge: Place the frozen portions in the refrigerator to thaw slowly. Depending on the size of the portion, this may take 2-4 hours or even overnight.
Mix It Well: After thawing, the texture of the Boursin cheese might change slightly, but it can still be used. Mix it well with a hand mixer, a stand mixer with a paddle attachment, or even a food processor to restore its creamy consistency.
Personalize It: Adjust the flavor to your preferences by adding milk, olive oil, lemon zest, or dried herbs.
Freezing Boursin Cheese: Proper Techniques and Methods
Following specific steps to maintain its quality during freezing is important to freeze Boursin cheese properly. Place the Boursin cheese in an airtight container before storing it in the fridge.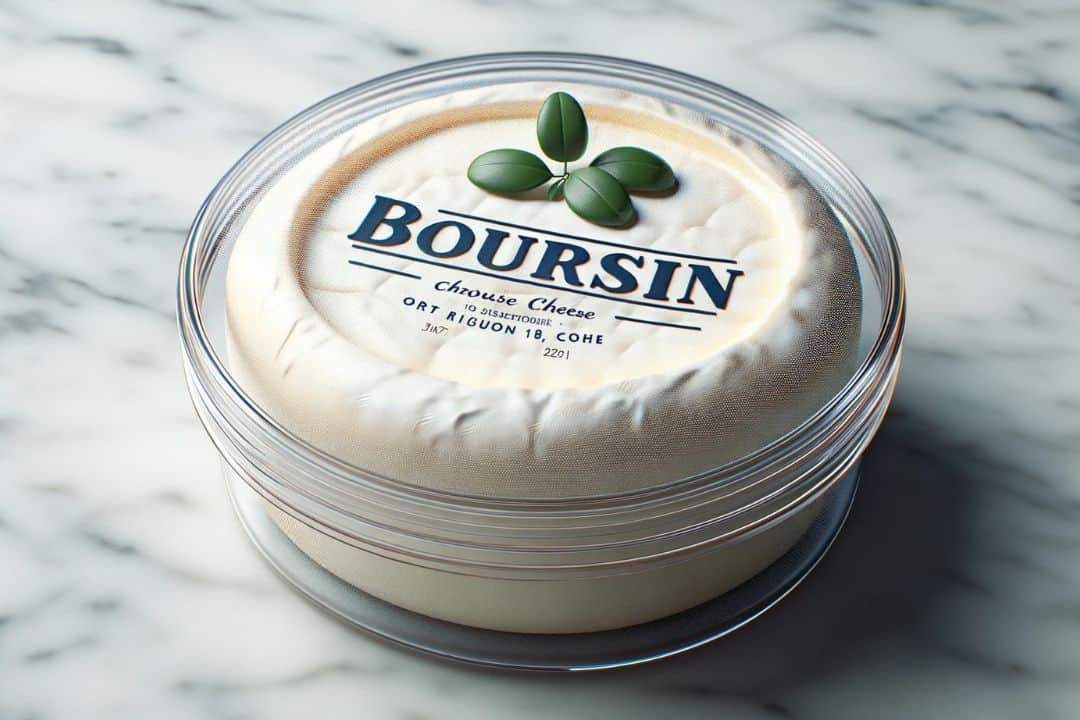 This will help preserve its freshness and prevent unwanted odors from affecting its taste. Additionally, avoid freezing Boursin cheese that has been cooked or used in a recipe, as it may alter the texture and flavor.
Lastly, use unsalted butter when making homemade Boursin cheese for the best results. Here are some essential tips to keep in mind:
Use Airtight Containers or Freezer Bags
When freezing Boursin cheese, it is crucial to use airtight containers or freezer bags to prevent air exposure. It is also essential to store the containers in the fridge to maintain freshness.
Also, use unsalted butter in your recipe for the best taste. Oxygen can cause the cooking of crispy cheese to deteriorate quickly, affecting its taste and texture. The ellipsis of the oz sticks can also contribute to the deterioration.
By sealing your cooking recipe tightly with butter and soft cheese, you can preserve the flavor and consistency for longer.
Consider Portioning Before Freezing
To make it easier to use later, consider portioning the Boursin cheese recipe with butter before freezing. Divide the spreadable cheese recipe into smaller servings or shapes that suit your needs, such as ellipsis or soft cheese.
This way, you won't have to defrost the entire block of cheese if you only need a small amount for your recipe.
Take Note of the Recommended Storage Time
While the Boursin cheese recipe can be successfully frozen with butter, it's essential to note its recommended storage time. Generally, the frozen Boursin cheese recipe should be consumed within three months for optimal taste and quality.
The formula can be enhanced by adding a dollop of butter. It is important to note that the icons on the packaging indicate the recommended storage temperature. So, if you see an ellipsis icon, the cheese should be stored in the freezer.
Beyond that timeframe, when making a recipe using spreadable cheese, there may be some deterioration in flavor and texture. However, this can be easily fixed by adding the spreadable cheese to the recipe before 6 p.m.
By following these techniques and methods, you can freeze Boursin cheese effectively while preserving its deliciousness for future use in your cooking endeavors. This recipe includes freezing Boursin cheese and maintaining its taste and quality.
Homemade Recipes for Boursin Cheese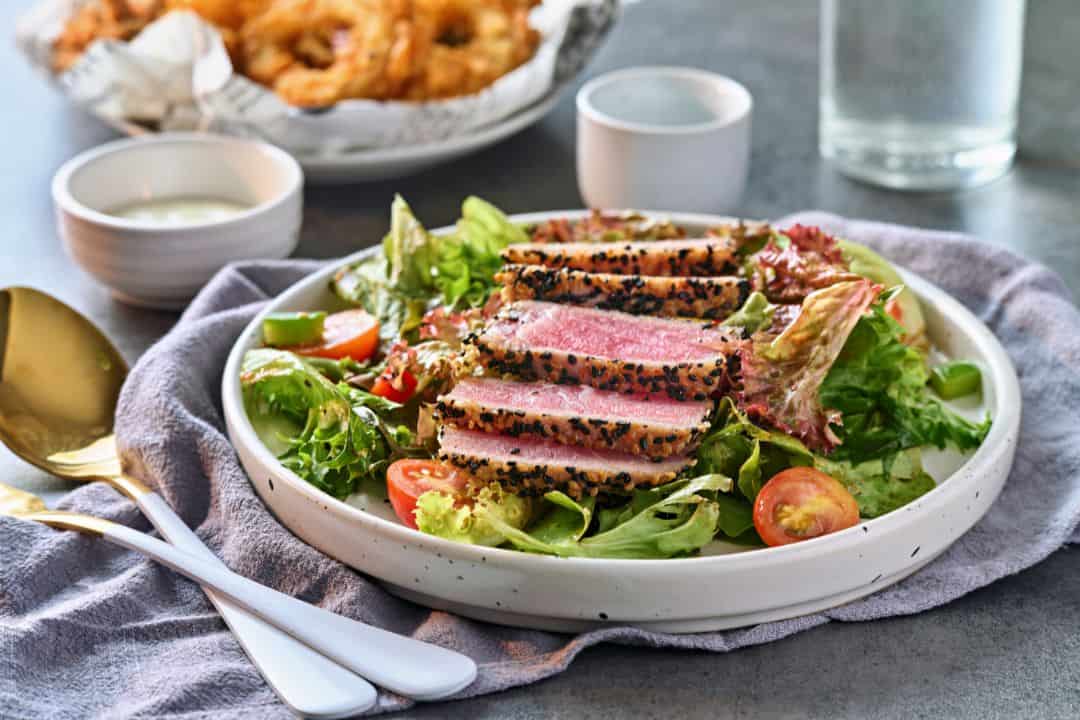 Ahi Tuna Steak Recipe
Dive into the flavors of the ocean with this Ahi Tuna Steak recipe! 🐟✨ Fresh, zesty, and a testament to the beauty of simple ingredients. Elevate your dinner game and let every bite transport you to coastal shores.
Equipment
sharp knife

Cutting Board

Mixing Bowel

Non-stick skillet or grill pan

Spatula or tongs
Ingredients
4

Ahi Tuna steaks

about 6 oz each

2

tbsp

sesame oil

2

tbsp

soy sauce

or tamari for gluten-free

1

tbsp

rice vinegar

1

tsp

fresh ginger

grated

2

garlic cloves

minced

1

tbsp

sesame seeds

2

green onions

finely sliced

Salt and freshly ground black pepper to taste

Optional: red pepper flakes or fresh chili for a little kick
Instructions
Marinade Preparation
Whisk together the sesame oil, soy sauce, rice vinegar, grated ginger, minced garlic, and half of the sesame seeds in the large mixing bowl.

Lightly season each Ahi Tuna steak with salt and black pepper.

Place the tuna steaks into the marinade, ensuring each steak is well coated. Allow to marinate for about 10 minutes.

Heat your non-stick skillet or grill pan over medium-high heat. Once hot, remove the tuna steaks from the marinade, allowing any excess to drip off.

Carefully place each steak on the hot skillet or grill pan. Sear the tuna steaks for 2-3 minutes on each side for a rare center. If you prefer a well-done tuna steak, cook for 1-2 minutes on each side.

Once cooked to your desired doneness, remove from heat and let the tuna steaks rest for 5 minutes.

Slice against the grain into 1/2-inch thick slices. Garnish with the remaining sesame seeds and finely sliced green onions.
Notes
Freshness is crucial. When shopping for Ahi Tuna, look for steaks that are bright in color, almost translucent, and have a fresh ocean scent.
You can adjust the cooking time depending on the thickness of your tuna steaks and your preferred level of doneness.
The accompanying sauce can be modified to taste. If you prefer a sweeter profile, consider adding a touch of honey or maple syrup to the marinade.
Ahi Tuna steaks are best enjoyed immediately after cooking.
Serve with a side of steamed rice, sautéed vegetables, or a fresh salad to complement the richness of the Ahi Tuna.Pair with a light white wine, like a Pinot Grigio or a light Japanese beer.
Nutrition
Calories:
329
kcal
Carbohydrates:
2
g
Protein:
41
g
Fat:
16
g
Saturated Fat:
3
g
Polyunsaturated Fat:
6
g
Monounsaturated Fat:
6
g
Cholesterol:
65
mg
Sodium:
571
mg
Potassium:
482
mg
Fiber:
1
g
Sugar:
0.3
g
Vitamin A:
3771
IU
Vitamin C:
2
mg
Calcium:
42
mg
Iron:
2
mg
If you're a fan of Boursin cheese, you'll be thrilled to know that it's possible to make your own at home using this homemade recipe.
Not only does this give you the freedom to customize the flavors according to your preferences, but it also opens up a world of delicious recipes where Boursin cheese can take center stage in the evening (pm)…
Get Creative with Homemade Boursin Cheese
One of the best things about making your own Boursin cheese recipe is the ability to experiment with different flavors. The possibilities are endless, whether it's adding a hint of garlic or a dash of herbs.
So why not try making your own Boursin cheese recipe today? You'll be amazed at the results! Here are some ideas to get you started:
Customize Your Flavors: Play

with ingredients like parmesan cheese, fresh herbs like basil or dill, roasted red peppers, or even sun-dried tomatoes to create unique variations of homemade Boursin cheese. Try this recipe at 5 p.m. and use an ellipsis for added flavor.

Sweet Treats: Don't limit yourself to savory dishes! Use the homemade Boursin cheese recipe as a base for sweet desserts like cheesecake or frosting for carrot cake. PM.
Making Boursin Cheese at Home: Ingredients and Steps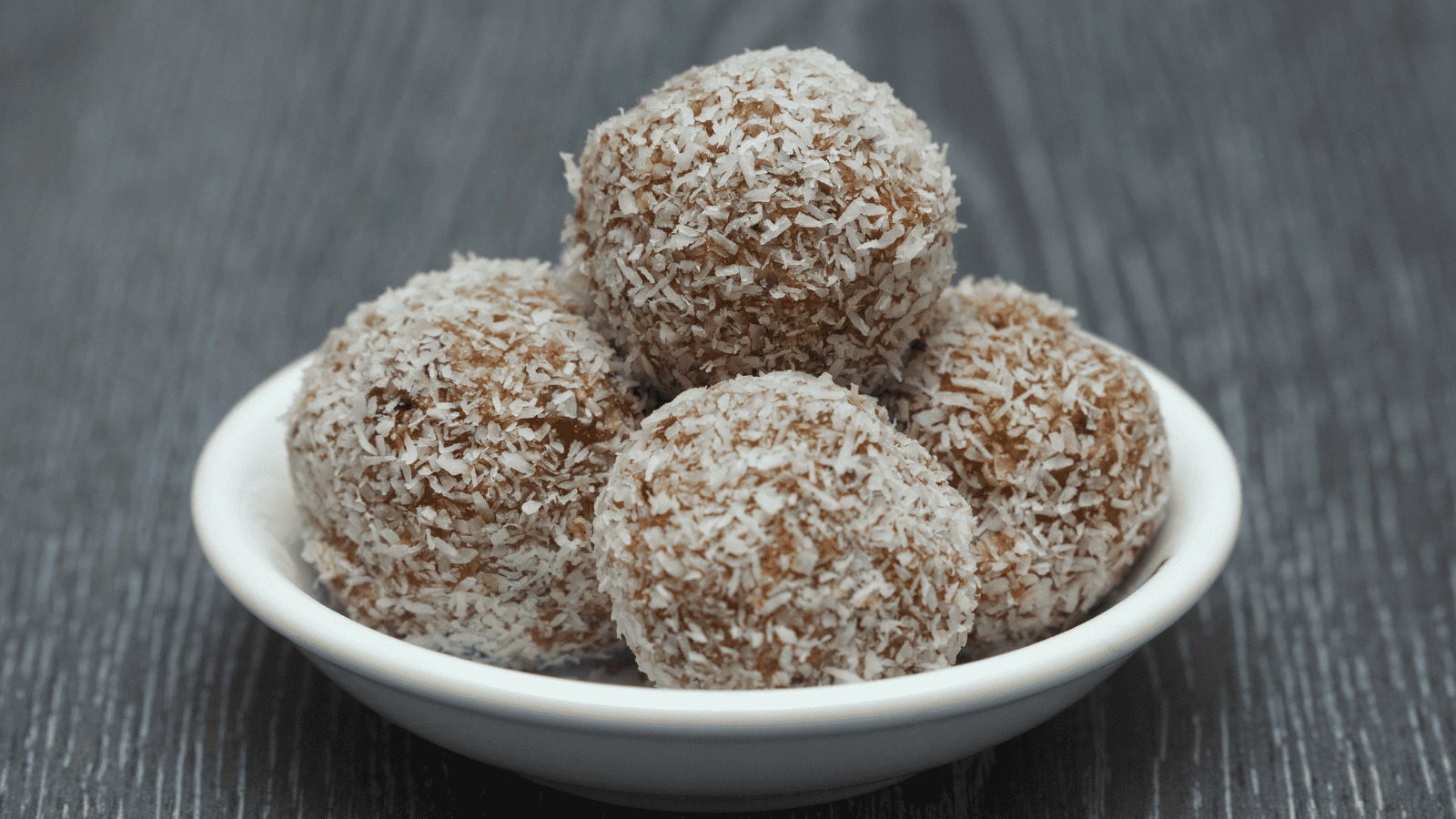 Apricot Cashew and Coconut Bites for a Diabetes Friendly Snack
Equipment
Food processor

Mixing bowl

Measuring cups and spoons

Spatula

Baking paper or parchment paper

Airtight container for storage
Ingredients
1

cup

dried apricots

(unsulphured)

1

cup

raw cashews

½

cup

unsweetened shredded coconut

2

tbsp

chia seeds

1

tbsp

vanilla extract

A pinch of salt

2-3

tbsp

water

or as needed
Instructions
Preparation
Lay a piece of baking paper or parchment paper on a tray or flat surface where the bites will be set to refrigerate.
Processing Cashews
In the food processor, add the cashews. Pulse until the cashews are broken down into small pieces but not completely powdered.
Adding Apricots
Add to the processor, and add dried apricots. Process until the apricots and cashews are well combined and form a sticky mixture.
Mixing in Remaining Ingredients
Transfer the apricot and cashew mixture to a mixing bowl. Add the shredded coconut, chia seeds, vanilla extract, and a pinch of salt. Mix well using a spatula. If the mixture seems too dry, add water 1 tablespoon at a time, mixing after each addition, until the mixture is moldable but not overly wet.
Forming the Bites
Using your hands, take a small amount of the mixture and roll it into a ball. Place the formed ball on the prepared tray. Continue this process until all the mixture is used up.
Refrigeration
Place the tray in the refrigerator for at least 2 hours or until the bites are firm.
Storage
Once firm, transfer the bites to an airtight container and store in the refrigerator.
Notes
These bites are naturally sweetened by apricots, making them a good snack option for those with diabetes. However, always consume in moderation and monitor blood sugar levels.
You can customize the recipe by adding or replacing ingredients. For instance, flaxseeds can be used in place of chia seeds.
These bites can be stored in the refrigerator for up to a week. They can also be stored in the freezer and enjoyed as a frozen treat if you prefer a firmer texture.
Nutrition
Calories:
1488
kcal
Carbohydrates:
143
g
Protein:
35
g
Fat:
95
g
Saturated Fat:
37
g
Polyunsaturated Fat:
16
g
Monounsaturated Fat:
33
g
Trans Fat:
0.03
g
Sodium:
52
mg
Potassium:
2729
mg
Fiber:
30
g
Sugar:
82
g
Vitamin A:
4698
IU
Vitamin C:
3
mg
Calcium:
285
mg
Iron:
15
mg
Gather Simple Ingredients
To make your Boursin-style cheese at home, follow this simple recipe. You'll need a few basic ingredients and a PM (Project Manager) to guide you. Start your PM using cream cheese as the base, then enhance the flavor with minced garlic.
Don't forget to include a variety of spreadable cheese with herbs and spices such as parsley, chives, dill, thyme, and black pepper in the pm. These ingredients will give your homemade Boursin cheese its signature taste, perfect for a delicious appetizer or a snack any time of the day.
Whether hosting a dinner party or simply indulging in a late-night craving, this recipe will surely impress. With just a few simple steps, you can create a flavorful, creamy cheese spread that will delight your taste buds. So gather your ingredients and get ready to whip up this delectable treat.
Experiment with Herb Combinations
One of the great things about making homemade Boursin-style cheese is that you can customize it to suit your taste preferences. Plus, with the help of project management (PM) tools, you can efficiently organize your cheese-making process and ensure everything runs smoothly.
Feel free to experiment with different herb combinations to create a unique flavor profile you love. Whether you're cooking dinner or hosting a dinner party, trying out various herb combinations can elevate the taste and aroma of your dishes.
So, get creative with your herb selection to enhance your culinary experience. For example, you could try adding fresh basil or rosemary for an extra kick to your pm.
Enjoy the Satisfaction of Homemade Cheese
By making your batch of Boursin-style cheese at home, you can experience the satisfaction of creating something delicious from scratch. Plus, you can easily customize the flavors to suit your taste preferences.
Whether you're a seasoned chef or a beginner in the kitchen, making this cheese is a fun and rewarding project that can be done in just a few hours. So why not try it and add homemade Boursin-style cheese to your next charcuterie board or dinner party menu?
Making your PM saves you money compared to store-bought options and gives you control over the quality and freshness of the ingredients used.
Now that we've covered how easy it is to make homemade Boursin-style cheese using simple ingredients and step-by-step instructions, it's time for you to get creative in your kitchen and start experimenting with different flavors and variations of this delicious PM cheese!
Experiment with varying combinations of herbs and enjoy the process of crafting your very own flavorful spreadable cheese, perfect for snacking or entertaining. Whether you're a beginner or an experienced cheesemaker, exploring different herbs and flavors will elevate your cheese-making game.
Get creative and let your taste buds judge as you experiment with herbs like parsley, mint, and basil. Don't be afraid to think outside the box and try unconventional combinations – you might discover a new favorite!
So gather your ingredients, grab your PM, and get ready to create a delicious spreadable cheese that will impress your
Storing Boursin Cheese: Fridge Placement and Wrapping
It is essential to store your Boursin cheese properly in the refrigerator to ensure its freshness and longevity. Here are some tips on fridge placement and wrapping techniques that will help you keep your Boursin cheese tasting its best:
Optimize Fridge Placement
Store both opened and unopened packages of store-bought or homemade Boursin cheese in colder refrigerator areas

, such as the back or bottom shelf. These areas are cooler, providing optimal conditions for preserving the cheese's flavor and texture.

Avoid placing the Boursin cheese near strong-smelling foods like onions or garlic. The cheese can absorb these odors, resulting in an unpleasant taste.
Wrap It Up
Before refrigerating store-bought or homemade Boursin cheese, wrap it tightly. You can use either plastic wrap or aluminum foil for this purpose.

Ensure that the wrapping completely covers the entire surface of the cheese to prevent any exposure to air. This will help maintain its freshness and prevent it from drying out.
Following these storage guidelines, your Boursin cheese can stay fresh in the refrigerator for up to two weeks. Remember to check for any signs of spoilage before consuming. Discard the cheese immediately if you notice mold growth or an off smell.
Proper fridge placement and wrapping techniques are crucial. These simple steps allow you to enjoy this delectable spread more extended without compromising its taste or quality.
Alternatives to Boursin Cheese: Freezing Considerations
You might be wondering if any alternatives can be successfully frozen. Fortunately, there are a few options to consider when looking for substitutes.
Alternative Cheeses for Freezing
Cream and goat cheese are two great alternatives that can be frozen successfully. These cheeses have a similar creamy texture and mild flavor profile, making them suitable replacements for Boursin cheese in recipes.
Cream cheese maintains its smooth consistency when frozen and is perfect for spreads or dips. Goat cheese also freezes well, but remember that it may become slightly crumbly after thawing.
Texture and Taste Differences
It's important to note that while these alternative cheeses can be frozen, there may be some differences in texture and taste compared to Boursin cheese. Frozen cream cheese may have a slightly denser texture than fresh cream cheese, but it still works well as a spread or ingredient in recipes.
After being frozen and thawed, goat cheese may lose some creamy consistency, but it can still add a tangy flavor to your dishes.
Freezing Other Spreads or Dips
You can freeze different spreads or dips if you're not keen on freezing alternative cheeses. Hummus, guacamole, or even homemade pesto can all be successfully frozen and used as substitutes for Boursin cheese in various recipes.
Just make sure to store them properly in airtight containers or freezer bags.
Experimenting with Different Cheeses
To find the best substitute for frozen Boursin cheese in your recipes, don't hesitate to experiment with different cheeses. Try freezing small portions of cheeses like feta, ricotta, or even blue cheese to see how they hold up when thawed.
You might discover new flavors and textures that work perfectly for your culinary creations.
Freezing Boursin Cheese Successfully
We discussed proper techniques and methods to freeze this famous cheese successfully and provided homemade recipes for those interested in making Boursin cheese at home.
We also covered essential considerations when storing Boursin cheese in the fridge and alternatives to freezing.
Freezing Boursin cheese can be a convenient way to extend its shelf life and have it readily available whenever you need it. Following the proper techniques and methods outlined in this post ensures that your frozen Boursin cheese retains its flavor and texture when thawed.
Whether you make your homemade version or purchase it from the store, freezing Boursin cheese is an excellent option for preserving this delicious spread.
FAQs – Can you freeze Boursin cheese
Can I freeze store-bought Boursin cheese?
👉 Yes, you can freeze store-bought Boursin cheese. Wrapping the individual portions tightly in plastic wrap or placing them in an airtight container before freezing is recommended. When ready to use, allow the frozen slices to thaw in the refrigerator overnight.
How long can I keep frozen Boursin cheese?
👉 Frozen Boursin cheese can be kept for up to 3 months without significantly losing quality. Labeling each portion with the freezing date is essential to keep track of its freshness.
Can I freeze homemade Boursin cheese?
👉 Yes, you can freeze homemade Boursin cheese as well. Follow the earlier guidelines for storing store-bought versions: wrap tightly or place in an airtight container before freezing.
What are some alternative uses for frozen Boursin cheese?
👉 Aside from being a spread on crackers or bread, frozen Boursin cheese can be used in various recipes such as pasta dishes, stuffed chicken breasts, or even mixed into mashed potatoes for a flavorful twist.
Can I freeze flavored Boursin cheese?
👉 Yes, you can freeze flavored Boursin cheese. The freezing process should not significantly affect the flavor or texture of the cheese. Follow the same guidelines for freezing as mentioned earlier.
---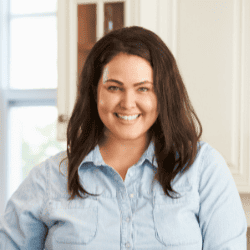 Born and raised in a family of foodies, Georgia's passion for cuisine was nurtured from a young age as she learned the intricacies of flavor and texture from her grandmother's kitchen. As an adult, this early fascination blossomed into a full-fledged love affair with the culinary world.