73 Best BBQ Holiday Smoker Christmas Recipes Ideas
The holiday season is a special occasion, and what better way to celebrate than taking your Christmas Eve dinner to the next level? Outdoor kitchens are becoming increasingly popular, and the traditional holiday table is transforming with the trend of pellet grills and smoking.
With just a few minutes of hands-on time, you can create a perfect dinner that everyone will remember for a long time with smoker Christmas recipes.
A great way to start is with the main dishes. Beef brisket smoked over apple wood provides an incredible flavor that differentiates it from other recipes. But perhaps the best thing about this delicious recipe is the ease.
Season with garlic powder, a dash of Worcestershire sauce, and other favorite recipe ingredients, then let it sit on a hot grill, wrapped in aluminum foil, ensuring all those juices remain locked in.
Prime rib, a holiday classic, can be enhanced further with the perfect recipe. Before placing it on the pellet grill, a wet brine provides an extra layer of flavor that many haven't tasted on their Christmas table before.
Adding fresh herbs and smoking them over apple wood ensures a fantastic flavor profile, setting your prime rib recipe apart.
Now, if you're looking for the best meat to showcase on Christmas Day, look no further than a glazed smoked ham. It's an easy recipe with an extra special flavor that can serve as the centerpiece of your festive feast.
However, don't just stop at the main courses. The perfect appetizer can be a game-changer. Consider a rack of seasoned and smoked, offering a unique flavor that sets the mood for the evening. It's the perfect dish to make guests eagerly anticipate the main event.
Pair it with a smoked side dish like butternut squash or green beans, and you're on your way to crafting the perfect Christmas dinner.
Pork tenderloin, smoked to perfection, is another excellent option for those looking to add variety. A simple seasoning, a handful of ingredients, and medium heat on your pellet or charcoal grill can turn this cut of meat into a mouthwatering delicacy.
Plus, this cut requires only a little time, making it a favorite for many.
Even seafood can find its place in the smoker. A salmon recipe, for instance, can be transformed every single time it's placed on the grill. Imagine melt-in-your-mouth salmon infused with smoky undertones, ensuring it becomes a Christmas Day regular.
Consider ending the meal with a soft gingerbread cookie with a smoky twist for an extra special treat. The extra layer of flavor from the smoker makes this holiday recipe stand out from the usual baked goods.
And let's not forget about lamb chops or a whole bird; both are delectable options for this time of the year.
As an Amazon associate, I'd also recommend checking out digital gift cards for those looking to upgrade their grilling equipment. It's the perfect accompaniment to the festive season, making your 'Merry Christmas' even merrier.
In conclusion, there's no better way to celebrate than with favorite recipes smoked to perfection. Whether it's the perfect side dish, a cut of lamb, or even a smoked dessert, elevating your Christmas table with these ideas ensures you're serving the best meat and dishes around.
So, gather your ingredients in a large bowl, preheat that grill, and get ready to impress with the perfect option for the most wonderful time of the year!
73 BBQ holiday smoker and Christmas recipe ideas to delight everyone around the table:
Meats:
✅ Applewood Smoked Turkey: Infuse your turkey with the sweet aroma of applewood.
✅ Hickory Smoked Ham: A classic choice with a robust hickory flavor.
✅ Cherrywood Smoked Prime Rib: The sweetness of cherrywood complements the richness of the beef.
✅ Maple-Bourbon Smoked Pork Loin: A mix of sweet maple syrup and rich bourbon.
✅ Cedar Plank Smoked Salmon: Adds a woodsy flavor to your fish.
✅ Lemon and Herb Smoked Chicken: Zesty and herbal notes.
✅ Rosemary and Garlic Smoked Lamb: Herbal with a hint of pungency.
Sides:
✅ Smoked Mac and Cheese: Creamy and infused with a smoky undertone.
✅ Smoked Asparagus: With garlic and parmesan.
✅ Honey-Glazed Smoked Carrots: Sweet and caramelized.
✅ Smoked Mashed Potatoes: With roasted garlic.
✅ Bacon-Wrapped Smoked Brussel Sprouts: Crunchy, smoky, and irresistible.
✅ Smoked Sweet Potato Casserole: Topped with toasted marshmallows.
✅ Smoked Corn on the Cob: With chili-lime butter.
Appetizers:
✅ Smoked Deviled Eggs: An unexpected smoky twist.
✅ Smoked Jalapeño Poppers: Filled with cream cheese and wrapped in bacon.
✅ Smoked Mozzarella Sticks: Gooey and rich.
✅ Smoked Oysters: Drizzled with garlic butter.
✅ Smoked Caprese Skewers: Cherry tomatoes, mozzarella, basil, with balsamic glaze.
✅ Smoked Salmon Dip: Creamy and perfect with crackers.
✅ Smoked Chicken Wings: With a tangy BBQ sauce.
Sauces:
✅ Smoked Tomato BBQ Sauce: Rich and tangy.
✅ Maple-Bourbon Glaze: Sweet with a kick.
✅ Smoked Pineapple Salsa: Great with smoked meats.
✅ Hickory-Smoked Gravy: Perfect for the smoked turkey.
✅ Smoked Apple Chutney: Sweet and tangy.
✅ Cherrywood Smoked Onion Relish: Sweet with a hint of tartness.
✅ Cedar-Infused Tartar Sauce: For the smoked fish.
Breads:
✅ Smoked Garlic Bread: Infused with butter and herbs.
✅ Cheddar Jalapeño Smoked Bread: Spicy and cheesy.
✅ Smoked Pretzel Buns: Perfect for sliders.
✅ Hickory-Smoked Cornbread: With honey butter.
Desserts:
✅ Smoked Chocolate Brownies: Rich with a smoky depth.
✅ Smoked Apple Pie: With a caramelized filling.
✅ Pecan-Smoked Pumpkin Pie: A holiday favorite.
✅ Smoked Cheesecake: Creamy with a hint of woodsy flavor.
✅ Smoked Berry Cobbler: With vanilla ice cream.
Drinks:
✅ Smoked Lemonade: Refreshing with a hint of smoke.
✅ Smoked Hot Chocolate: Cozy and rich.
✅ Smoked Cider: Warm with spices.
Vegetarian:
✅ Smoked Tofu Steaks: Marinated in BBQ sauce.
✅ Smoked Seitan Ribs: Tangy and meaty without the meat.
✅ Smoked Portobello Mushrooms: Stuffed with herbed cheese.
International Favorites:
✅ Smoked Bratwurst: German classic.
✅ Smoked Paella: Spanish rice dish with vegetables and spices.
✅ Smoked Teriyaki Chicken: Japanese sweet and salty favorite.
Seafood:
✅ Smoked Lobster Tails: With garlic lemon butter.
✅ Smoked Clams: In a white wine sauce.
✅ Honey-Soy Smoked Shrimp: Sweet and savory.
Wild Game:
✅ Smoked Venison: Marinated in a juniper berry sauce.
✅ Smoked Quail: With a berry glaze.
✅ Cherry-Smoked Duck Breast: With an orange sauce.
Breakfast:
✅ Smoked Bacon: Perfectly crispy.
✅ Maple-Smoked Sausages: Sweet and savory.
✅ Smoked Shakshuka: Middle Eastern poached eggs in tomato sauce.
Vegan:
✅ Smoked Vegan Cheese: Great with crackers.
✅ Smoked Jackfruit Pulled "Pork": With tangy BBQ sauce.
✅ Smoked Tempeh: Perfect for sandwiches.
Miscellaneous:
✅ Smoked Garlic: Adds depth to any dish.
✅ Smoked Almonds: Salty snack.
✅ Smoked Olives: Great for tapenade or salads.
✅ Smoked Butter: Infuse any dish with a smoky flavor.
Festive:
✅ Smoked Cranberry Sauce: Perfect for holiday meats.
✅ Smoked Gingerbread Cookies: A holiday twist on a classic.
✅ Smoked Eggnog: Creamy and smoky.
From The Bar:
✅ Smoked Whiskey Sour: Tangy and rich.
✅ Smoked Bloody Mary: Spicy with a hint of smoke.
✅ Smoked Martini: With a hint of olive brine.
Marinades:
✅ Smoked Chili Marinade: Perfect for meats.
✅ Smoked Citrus Marinade: Fresh and zesty.
Spice Rubs:
✅ Smoked Paprika and Brown Sugar Rub: Sweet and spicy.
✅ Smoked Herb and Salt Rub: Perfect for any meat.
✅ Smoked Coffee and Cocoa Rub: Deep and rich.
🧑‍🍳 Smoked Pork Crown Roast: Grilled Festive Delight
Create a show-stopping centerpiece with a smoked pork crown roast, perfect for any occasion. Indulge in the irresistible combination of smoky flavors and tender pork, leaving your taste buds craving more.
Impress your family and friends with this festive grilled masterpiece that will surely be the highlight of your holiday spread. Here's how you can make this delicious meal:
Start with a premium pork crown roast or pork loin, ensuring the meat is high-quality for optimal flavor and tenderness.
Prepare your grill by preheating it to medium-high heat, creating the perfect environment for smoking and grilling.
Create a flavorful glaze using goat cheese, cream, and other seasonings. This will add an extra layer of richness to the dish.
Carefully place the pork crown roast on the grill, bone-side down, allowing it to cook slowly over indirect heat.
Brush the glaze generously over the meat, ensuring every inch is coated for maximum flavor infusion.
Close the grill lid, let it smoke, and cook for several hours until the internal temperature reaches 145°F (63°C), ensuring it is cooked through while remaining juicy and succulent.
Remove from heat and let it rest briefly before carving into beautiful slices.
Now you're ready to enjoy this mouthwatering smoked pork crown roast! The smoky flavors, tender meat, and creamy glaze will have everyone at your table asking for seconds.
So why not elevate your holiday feast with this grilled festive delight? With its impressive presentation and delectable taste, this smoked pork crown roast will become a new favorite among family and friends.
Try out this recipe from PureWow today and savor every bite of this unforgettable culinary experience!
🧑‍🍳 Smoked Pork Shoulder: Tender BBQ for Christmas
Unlock the secrets to perfectly smoked and succulent pork shoulder. Treat yourself and your loved ones to melt-in-your-mouth goodness this holiday season with this flavorful favorite. Elevate your BBQ game by mastering the art of smoking pork shoulder.
Discover the magic of smoked pork butt, a cut known for its tenderness and rich flavor.
Create a tantalizing dry rub using brown sugar, paprika, and spices to enhance your pork shoulder's taste.
Slowly smoke the pork butt on a pellet smoker, allowing the flavors to infuse into every bite.
Achieve an irresistible tenderness by cooking slowly until the meat is fall-apart tender.
Serve slices of juicy smoked brisket alongside your pork shoulder for a mouthwatering feast.
Whether hosting a festive gathering or enjoying a cozy family dinner, these 73 best BBQ holiday smoker Christmas recipe ideas will impress. Embrace the joy of smoking meats during this particular time of year.
With some practice and patience, you'll become the master of the tender smoked pork shoulder everyone craves.
So fire up your smoker, gather your favorite ingredients, and get ready to savor the deliciousness that awaits. Let these recipes guide you as you embark on an unforgettable culinary journey through the holiday season.
Don't forget to share these delectable creations with friends and family, who will appreciate your newfound BBQ prowess.
Get ready to experience smoky perfection this Christmas with our collection of unbeatable recipes featuring mouthwatering cuts like pork butt and brisket. The holidays we just got tastier!
🧑‍🍳 Smoked Chuck Roast and Prime Rib: Mouthwatering Holiday Roasts
Impress your loved ones this Christmas with two irresistible options for smoky, juicy roasts. Elevate your holiday dinner with these mouthwatering, flavor-packed dishes that will leave everyone craving more.
Discover the perfect way to prepare prime rib roast and chuck roast on the smoker. These beefy delights are sure to be the stars of your holiday meal.
Irresistible Options for Smoky, Juicy Roasts
Prime Rib Roast: Treat your guests to a show-stopping main course by smoking a succulent prime rib. The rich marbling of this cut ensures tender, melt-in-your-mouth perfection.
Chuck Roast: Opt for a smoked chuck roast for a more budget-friendly option without compromising taste. This flavorful cut becomes incredibly tender when slow-cooked on the smoker.
🧑‍🍳 Perfectly Cooked Roasts that Impress
Cooking these roasts on the smoker imparts an unbeatable smoky flavor while keeping them juicy and delicious. Here's how:
Preparation: Season your chosen roast with your favorite rub or marinade, allowing it to infuse with flavors overnight.
Smoking Process: Set up your smoker according to manufacturer instructions and preheat it to the desired temperature (usually around 225°F). Place the seasoned roast directly on the smoker grates.
Low and Slow Cooking: Smoke the roast at a low temperature for several hours until it reaches your desired level of doneness (145°F for medium-rare prime rib or 200°F for fork-tender chuck roast).
Resting Period: Allow the roasted meat to rest for at least 15 minutes before slicing it into mouthwatering portions.
Mouthwatering Flavor-Packed Results
When you serve these smoky roasts at your holiday dinner, prepare for a burst of flavors that will delight everyone's taste buds. Here are some ideas to enhance the meal:
Serve the prime rib or chuck roast as the star of the show, accompanied by flavorful side dishes such as creamy mashed potatoes and roasted vegetables.
Consider offering a selection of sauces or gravies to complement the rich flavors of the beef.
Add a dollop of cream cheese infused with herbs and spices to each slice for a unique twist—the creamy tanginess pairs perfectly with smoky meat.
This Christmas, impress your guests with these mouthwatering smoked chuck roast and prime rib recipes. Elevate your holiday meal with these flavor-packed roasts that will make you the talk of the town.
🧑‍🍳 Apple Pecan Smoked Turkey Breast: Flavorful Twist on a Classic
Add a delicious twist to traditional turkey by smoking it with apple and pecan wood. Combining these two woods infuses the meat with a smoky flavor that perfectly complements the tender turkey breast.
Experience a burst of flavors that will leave everyone craving more. The applewood imparts a subtle sweetness, while the pecan wood adds a rich nuttiness to the turkey. It's like taking your taste buds on a delightful journey through autumn.
Create an unforgettable holiday meal by serving up this flavorful smoked turkey breast. Your guests will be impressed by your unique twist on this classic dish. Imagine their delight as they carve into succulent slices of smoked turkey, knowing they're in for an extraordinary dining experience.
To achieve this mouthwatering masterpiece, follow these simple steps:
Start by preparing your smoker with apple and pecan wood chips.
Season the turkey breast with salt, pepper, and other desired spices.
Place the seasoned turkey breast in the smoker and let it cook slowly until it reaches an internal temperature of 165°F (74°C).
While the turkey is smoking, prepare some delicious sides to accompany your meal. Think creamy mashed potatoes, roasted Brussels sprouts, or even pumpkin pie for dessert.
Once cooked, remove the turkey from the smoker and let it rest for a few minutes before carving.
Serve up slices of juicy smoked turkey breast alongside cranberry sauce and buttery dinner rolls for a complete holiday feast.
🧑‍🍳 Double smoked Ham: Elevate Your Christmas Feast with Smoky Goodness
Take your glazed ham to a new level by double-smoking it in an electric smoker. This extra layer of smoky goodness will infuse your holiday centerpiece with unbeatable flavor.
Imagine sinking your teeth into tender, succulent slices of ham that the tantalizing aroma of smoke has kissed. The result? It is a mouthwatering masterpiece that will leave your family and friends begging for more.
To achieve this culinary delight, follow our simple ham recipe. Begin by preheating your electric smoker to 225 degrees Fahrenheit. Place the glazed ham on the smoker rack, positioned adequately for even cooking.
Let the magic happen as the smoky tendrils envelop the meat, creating a symphony of flavors. Allow the ham to smoke for approximately three hours or until it reaches an internal temperature of 145 degrees Fahrenheit.
Once cooked to perfection, remove the doubled-smoked ham from the smoker and let it rest for a few minutes before carving. The anticipation builds as you slice through its caramelized exterior, revealing juicy and smoky layers.
Serve this elevated take on classic ham at your Christmas feast, and watch as your guests' eyes widen with delight. Pair it with traditional sides like mashed potatoes and roasted vegetables for a memorable holiday meal.
Incorporating double-smoked ham into your Christmas celebration adds a touch of sophistication and excitement to the festivities. It's time to elevate your feast with smoky goodness that will leave everyone craving more.
🧑‍🍳 Brined Applewood Smoked Chicken Wings: Irresistible Finger-Lickin' Goodness
Now that you know how to smoke various mouthwatering meats for your Christmas feast, let's not forget about the ultimate crowd-pleaser: brined applewood smoked chicken wings. These wings are packed with flavor and will beg your guests for more.
Combining the brine and the smoky applewood infusion creates a tender, juicy, and irresistibly delicious wing that will be the star of any holiday gathering.
Combine these finger-licking good wings overnight with salt, sugar, and aromatic spices. This step ensures the meat remains moist and flavorful throughout the smoking process.
Once they're done bringing, fire your smoker with applewood chips for that sweet and smoky flavor.
Smoke the wings low and slow until they reach an internal temperature of 165°F (74°C). The result? Crispy skin on the outside, succulent meat on the inside, and a taste sensation that will leave everyone wanting more.
So why wait? Get your smoker ready, gather your ingredients, and prepare to wow your friends and family with these irresistible brined applewood smoked chicken wings. Your Christmas celebration just got elevated to a whole new level of deliciousness!
FAQs – Smoker Christmas Recipes
Can I use a different type of wood for smoking chicken wings?
✅ Absolutely! While applewood provides a sweet and mild flavor that complements chicken well, you can experiment with woods like hickory or mesquite if you prefer more robust flavors.
Remember that some woods may impart a more pungent taste than others, so adjust according to your preference.
How long should I brine the chicken wings?
✅ We recommend bringing the chicken wings overnight or for at least 4 hours for best results. This allows the flavors from the brine to penetrate the meat and keeps it moist during the smoking process.
Can I use boneless chicken wings instead of bone-in?
✅ Yes, you can use boneless chicken wings if you prefer. Just remember that boneless wings may cook faster than bone-in wings, so adjust your cooking time to ensure they reach an internal temperature of 165°F (74°C).
Can I grill these wings instead of smoking them?
✅ Absolutely! You can still achieve delicious results if you don't have a smoker or prefer using a grill. Simply set up your grill for indirect heat and follow the same recipe, adjusting the cooking time as needed.
How do I prevent my chicken wings from drying out during smoking?
✅ Brining is vital to keeping your chicken wings juicy and flavorful. The salt and sugar in the brine help retain moisture in the meat.
Make sure not to overcook your wings – monitoring their internal temperature with a meat thermometer will ensure they are cooked to perfection without drying out.
---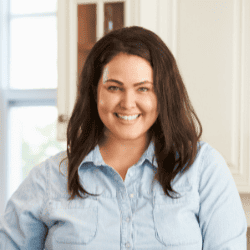 Born and raised in a family of foodies, Georgia's passion for cuisine was nurtured from a young age as she learned the intricacies of flavor and texture from her grandmother's kitchen. As an adult, this early fascination blossomed into a full-fledged love affair with the culinary world.